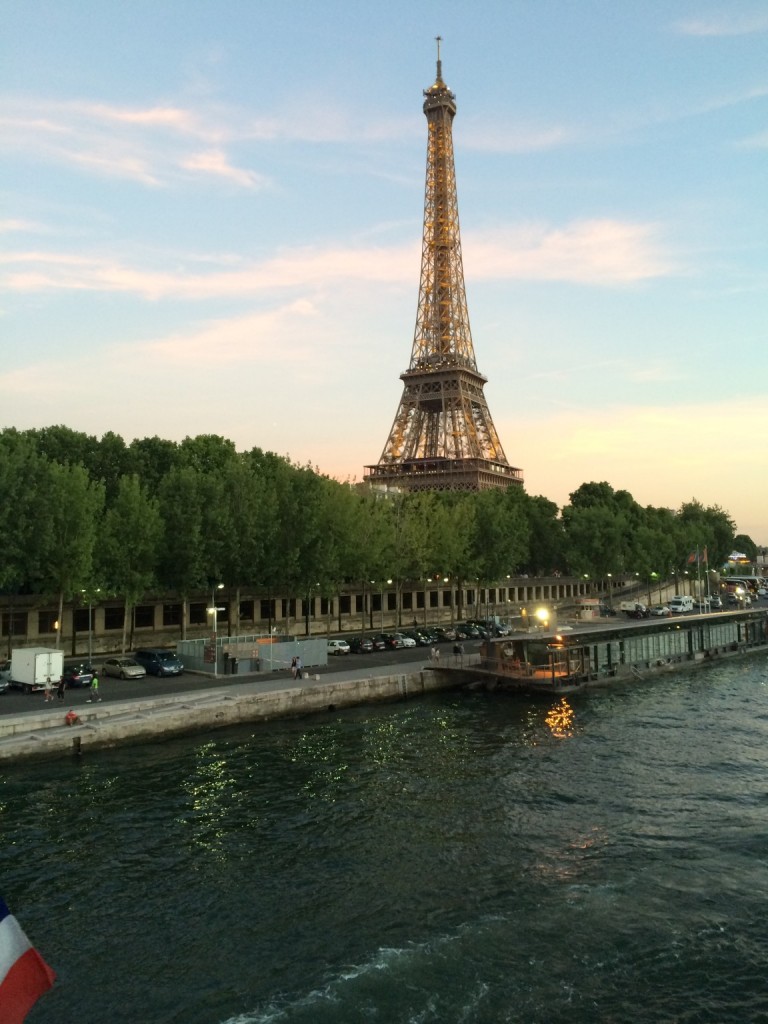 Stay:
Paris is split into arrondisments (neighborhoods) that spiral out from the middle of the city. Because transit covers the city so well, you have a lot of good options for places to stay. We rented an apartment in the 10th near the Canal Saint-Martin and loved it. The neighborhood was quiet but walk-able to the major attractions (if you like walking) and very accessible via the metro. We loved being able to picnic by the canal in the evening and there was a ton of great food in the area. A bartender we met compared the 10th to Brooklyn because it's where the hipsters live. Following the hipsters is usually a pretty good bet when traveling.
The 3rd (Marais) would also be a great neighborhood if you're looking for something more central. We also thought the 11th seemed fun and lively.
(New to Airbnb? Use this referral code when you sign up and you and I will both get a $25 credit. Yay, savings!)

Do:
Museums! There are too many to count and you won't be able to see them all (and you wouldn't want to spend all your time inside anyway). Some favorites:
Musée D'Orsay – If you took T.J. Clark's UC Berkeley class on French painting from 1830-1890 this is the museum for you. A mind-boggling collection of Cezanne, Monet, Manet (my favorite!), Renoir, Van Gogh, etc. Try to get in line a little before opening to beat the rush. Head straight upstairs to the impressionists then continue onto the post-impressionists before the crowds arrive.
Centre Georges Pompidou – Outstanding selection of modern and contemporary works as well as great views of Paris. Start with the permanent collection – it's big!
Musée de L'Orangerie – Located in the Tuileries Garden, L'Orangerie is pretty quiet considering its location. The museum is small, with the main attraction being two stunning, oval rooms of Monet water lilies.
Fondation Louis Vuitton – This museum requires a bit of extra travel to get to, but you won't be disappointed. Gehry's architecture and the Olafur Eliasson installation are worth the price of admission alone. Walk through the Jardin d'Acclimitation afterward.
The Louvre – Obviously. Everyone and their mother will be there but you should go too.   Our suggestion is to pick a few things you really want to see and don't try to see the rest of the museum. You will cover a lot of ground just walking to the most famous works. While the crowd will head straight toward the Mona Lisa, you might be better off starting with Michelangelo's Rebellious Slave. There was no one around when we got there!
Amazing things to do that aren't museums:
Walk everywhere. Sit down for a meal. Keep walking. Have a pastry. Walk some more.
Visit the Père Lachaise Cemetery.
Read a book and/or picnic in the Jardin du Luxembourg.
Go to a concert.
There are always interesting events happening in the city. This website was a good guide for us.
Eat :
Go to the market and have a picnic.
1st:
Kunitoraya: Japanese.  Good soba soups and rice bowls.  The gyudon was excellent – beef, eggs, rice, and pickled mushrooms.  This is a good option near the Louvre and Tuileries.
7th:
Cinque Mars: Set lunch for €18.  Simple and traditional.
10th:
Le Chameleon: Delicious set lunch (appetizer and entree or entree and dessert) for €17. This is probably the best value we found.
Assanabel: Lebanese.  The assorted platter of vegetarian appetizers with dessert is excellent and plenty of food for 2 people.  Just get one.
Blackburn: Good coffee, breakfast, and quiche or tartines for lunch.
La Cantine de Quentin: They have a set lunch option but the menu is good too.  Try the risotto.
Maru: Japanese set lunch for €13 with miso soup, small salads, a rice bowl with your choice of shrimp, pork, chicken, or salmon, and green tea.
11th:
Le 6 Paul Bert: A fancier option with a 4-course set dinner for €44 and a great wine list.  Call ahead to make a reservation (they speak English).  Everything we had here was excellent.
A La Francaise: Good bistro fare (awesome hamburger) and aperitifs using only French products.  A good bet if you are near the Cemetary Pere Lachaise.
Treats
You can go on your own Tour de Macaron, or you can go straight to our favorite: Acide.
Berthillon: Ice cream and sorbet.  Get fruit flavors!
Edwart Chocolates.  Say hi to Edwart for us!
Du Pain et des Idees: Their pain des amis is excellent, excellent bread if you need some for a picnic.  We also liked the escargot-shaped pastries with pistachio or fruit.  Considered to be one of the best boulangeries in Paris.
Drink