We were lucky to snag the last bottle of this rarity at Cave á Bulles.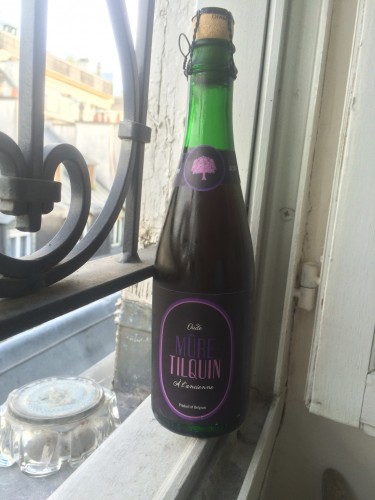 Tilquin is one of the smaller lambic brewers; they make two beers, their Oude Geuze (1, 2, and 3 year lambics), and their plum lambic (Oude Quetsche). This year they also did a small batch of blackberry, Oude Mûre, which is the bottle above.
I'm a big fan of Tilquin's regular geuze, and this bottle doesn't stray far from it. Same funk/barnyard notes, not too tart. The berry flavor comes out mostly as underripe blackberry or raspberry; lemony and tangy, but not the rich dark fruit flavors of a ripe blackberry off the vine.  It's most like the blackberry character from the Almanac's Farmers Reserve, if you've tried that bottle.
As you can see from the picture, the color is beautiful, and the head is mostly non-existent. I expect this is a bottle that would improve with time in a cellar, given that there is less of that fresh fruit character to lose, and it could do with a little more carbonation.
The Tilquin Mûre is a neat beer, and if you're lucky enough to see it you should buy one and let it sit a year or two.